Mood Boards
Mood Boards can be defined as a collection of art pieces that are used to represent a specific design vision, idea, or concept. Mood boards are not to be confused with Collages which are the physical organization of images on a board to create one large image.
Mood boards can serve as an extremely useful tool for designers in multiple aspects of their work. They can help you visualize ideas and concepts without having to go through the hassle of creating everything from scratch. Mood boards also allow you to discover new art pieces so that you may integrate them into your final product/project or holdings if they are deemed appropriate.
Founders of UX Series
History of Mood Boards.
Mood Boards have been around since the early 20th century. They were originally used to communicate a design vision for a product, especially when there was a language barrier. Consisting of images and words that help compliment each other in order to get the point across clearly.
In more recent years they have been created using Adobe Photoshop or Illustrator to layout elements together by size, color, saturation etc. in order to create a finished product that looks aesthetically pleasing.
They have been adopted by UI/UX Designers because they provide a general feel for how the finished product should look and function. They also help to ensure that all team members and stakeholders are on the same page with vision and design direction.
---
---
PRACTICAL USER EXPERIENCE
When are Mood Boards commonly used?
Mood Boards are primarily used in the early stages of a product's design to communicate a vision or concept. They can be utilized as a means to gain management and team buy-in for a new direction that has been set forth.
They provide structure and organization to a project ensuring that everyone involved is on the same page with visual directives, style, and general feel.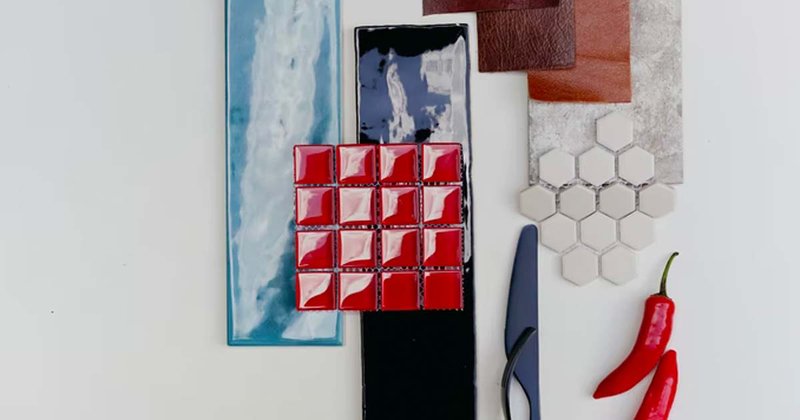 Mood Boards: Mood boards can serve as an extremely useful tool for designers in multiple aspects of their work.
UI/UX RULEBOOK
Are there any rules to consider when creating Mood Boards?
Mood Boards are best when created using a variety of media including:
Post-it notes
Pinterest
Sketching
Mood Rings and more!
They have become a central part of Visual Design as well as UI/UX Design and are extremely versatile consisting of any type of art piece or image.
In terms of UI/UX Design they typically include the following elements:
Colors / Color swatches

Screenshots from popular mobile apps

Typefaces from popular font collections

Font styles

Themes

An overall feel/concept that fits into your brand's vision
DO's
Do use them to help visualize what you are trying to accomplish.

Do use a variety of media (post-it notes to sketches!)

Do communicate your vision with stakeholders and management.

Do ensure that your design team is on the same page.

Do share back via on social media using the hashtag #MoodBoard

Do gain input from your peers.

Do use as a tool to discover new art pieces for future projects.
DO NOT
Do NOT use as a means to convey detailed information.

Do NOT copy from other designers. It needs to fits your vision and brand/style!

Do NOT get caught up in the design of the Mood Boards itself.

Do NOT use as a replacement for research in any way shape or form.

Don't make boards that are too similar or reflect a lack of diversity
UI/UX HOW-TO SERIES
How do you actually create a Mood Board?
To properly serve a purpose your board will need to include the core features of your design along with any other components needed within your project. Remember that the chosen images should be clear enough so as to not confuse those viewing them.
When developing your board select images that give good feedback but that are not too specific so that room is left for imagination and exploration within the designs themselves.
Let's dive a little deeper into some of the key characteristics of what make for a great Mood Board:
1. Organization is key.
As far as Mood Boards are concerned organization is key. Mood Boards should be created to show an overall feel for what you are designing or at the very least a visual representation of your design concept. They serve their purpose best when easily understood and allow others viewing them to get excited by your ideas for the project.
2. DO NOT have too many components.
It's important not to overcrowd things with too many elements. You should show a general idea of what you're working on and perhaps even stimulate conversation but do not list everything that is happening at the moment.
3. Have limited color schemes.
When choosing colors it's important to keep them simple and consistent with the images used. Colors help set a mood for those viewing the board so make sure they complement each other. This will help to build one cohesive vision rather than multiple different directions.
4. Start simple and small.
You do not need to create a board that is 20+ images long and complicated at the beginning of your project. Start with something as simple as 3-5 carefully chosen pictures you think best represent your concept, brand, and vision.
5. Make it visually pleasing.
It's always nice when it looks good. Not only do they need to help others visualize your vision but they also need to represent YOU, your brand, and your current mood/state of mind within the design process in order for everyone involved with the project to see enough of your inspiration to understand your vision.
6. Must be clear enough to see the style/theme you are going for.
To show off a concept, theme, feel, or idea that you want others to understand and get excited about – your boards should not be so ambiguous that people can't understand them. You want people getting pumped up and excited by what you're trying to accomplish with your design so keep things clear.
7. Organize things aesthetically.
This tip is a MUST. Images should be kept consistent with one another to create a common thread within the design itself such as color schemes, layout or themes.
UI/UX BENEFITS
Why do UI/UX designers love Mood Boards?
Mood Boards are an important part of any UX, Design or successful business/strategic growth strategy. They provide a visual representation of your design concept, brand, and vision which in turn helps others to get behind what you're trying to accomplish within your project.
Importantly they bring people together from different departments working on the same project by helping generate excitement about what's being designed, built or implemented right from the beginning of a project. 
Remember, the images used should be clear enough so people viewing them are not confused and so that it adds cohesiveness between components used throughout other parts of UX design projects such as wireframes, mockups, interactive prototypes etc.
UI/UX COSTS
Is creating Mood Boards an expensive exercise?
Mood Boards do not need to be an expensive exercise as they require minimal effort, time and can be easily implemented within almost any business marketing strategy or digital product design and development workflow.
Images are shared between departments working on the same project allowing for better communication of vision, direction and brand messaging throughout projects both small and large.
Your boards will help synthesize ideas throughout the entire process by keeping everyone transparent with one another through clear imagery which is shared among all members of a team working towards completing successful projects.
Mood Boards allow for easy sharing of design concepts across multiple users working on the same project at any given time via email or cloud-based storage services such as Dropbox or Google Drive.
Frequently Asked Questions
What is the main purpose of Mood Boards?
Mood Boards help to keep communication clear while also helping everyone involved stay excited about what's being worked on throughout the design process both big and small.
They can be created quickly, easily, and at little cost to businesses of all sizes looking to incorporate them into their marketing strategy or product development workflow by utilizing templates or applications such as Adobe Photoshop or Illustrator.
Mood Boards should try to be kept aesthetically pleasing while also clearly representing your brand, vision and theme throughout all stages of your project.
Can AI Help with Mood Boards?
While it can't spit out your images (Update it can now also do images!) – Jasper can help out when it comes to your copywriting.
Modern Day UX Professionals are using Jasper for many aspects of their UX workflows to speed things up. The best way to see if it can help you is to give it a try. UXPLATE Readers get a Free 10k word trial: https://jasper.ai/free-trial?fpr=global. Enjoy
What are the main advantages of brainstorming?
One of the biggest advantages you will get with Brainstorming is the freedom it will allow employees and team members to think creatively and without judgment and criticism.
Brainstorming allows people to think more freely, without fear of judgment. Brainstorming encourages open and ongoing collaboration to solve problems and generate innovative ideas.
Brainstorming helps teams generate a large number of ideas quickly, which can be refined and merged to create the ideal solution.
What are your favorite brainstorming tools?
There are many ways to do Brainstorming. We like to keep things fairly simple here and depending on what stage we are at – our process as described above begins with Pen and Paper and one of our dedicated Brainstorming UX Templates fit for purpose.
For example, if we are looking to Brainstorm a new homepage idea we might grab our Brainstorming Box 8x and push out a bunch of ideas quickly before refining our best 2 ideas out on the Brainstorming Box 2x template.
What are the various methods of creating Mood Boards?
Creating Mood boards is as simple as curating a collection of related images or utilizing templates/applications to setup quickly, easily, and at little cost.
There are various templates that can be created in a matter of minutes if you're looking for something quick, easy, and efficient.
Some popular Mood Board applications include:
Adobe Photoshop

Google Docs

Pinterest

Evernote etc.
It's important to remember that Mood Boards are not simply pretty images set up for easy sharing among team members but rather they represent what you plan on accomplishing within your entire business strategy, plan or vision. This is exactly why Mood Boards over recent years have become crucial to marketing strategies and digital teams.
What are the main advantages of Mood Boards?
Mood Boards can have many advantages for business including:
Allow for better communication between team members.

Serve as guideposts.

Can act as an ongoing reference point throughout the design process.

Facilitate ideation from users not directly involved in the design process.

Help unify branding and messaging within digital products/services.

Streamline the process of sharing ideas.

Can be created quickly, easily and at little cost.

Help to keep teams on the same page.

Help keep teams excited about what's being worked on.

Help synthesize ideas throughout the entire process.
What are the main disadvantages of Mood Boards?
As great as they are there are always limitations to any technique. Here are a few of the disadvantages we have found:
May not always give you direct answers

Can be less efficient when it comes to streamlining the design process.

If not done correctly can chew time! Ensure you keep this simple and easy!

There is a fine line between functional and "pretty" – Use your time wisely.